Measure for Measure 2019 Workshop סדנאות מידה כנגד מידה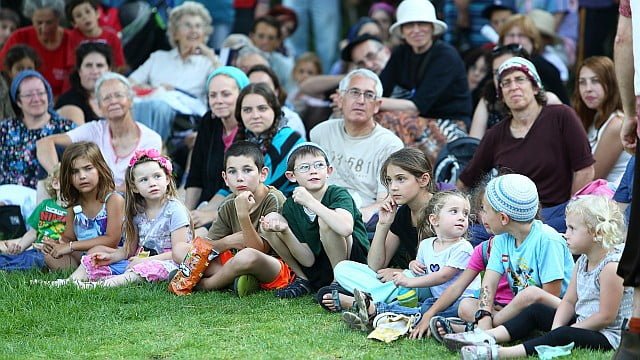 Following the success of last year, we're delighted to invite you to our pre-show workshops for all ages!
לאחר ההצלחה בשנה שעברה, גם בקיץ הזה מוזמן הקהל לסדנאות טרום-הצגה שלנו לכל הגילאים!
Have fun with Measure for Measure: in motion with our team of local theater educators and performers. Brush up your acting, learn about the show, and get engaged with Shakespeare.
Workshops in English (Hebrew speakers welcome).
בואו להיות חלק ממידה כנגד מידה: בתנועה! הסדנאות שלנו מועברות על ידי צוות של חונכים/ות ושחקנים/ות מקומיים. השחיזו את כישורי המשחק, הכירו מקרוב את המחזה, והעמיקו את החיבור לתיאטרון השייקספירי.
הסדנאות בשפה האנגלית (דוברי/ות עברית מוזמנים/ות!)
Groups | חלוקה לקבוצות
Workshops are available for several groups:
Going into second-fourth grade
Going into fifth-seventh grade
Going into eighth-tenth grade
Adults – acting workshop
Adults – discussion group (free of charge)
Groups will be limited to 10-12 participants on a first-come, first-served basis. You must register in advance to secure a spot.
Want to open another group? Contact us.
הסדנאות מחולקות על פי קבוצות הבאות:
בוגרי כיתה א' עד ג'
בוגרי כיתה ה' עד ז'
בוגרי כיתה ח' עד י'
מבוגרים – סדנת משחק
מבוגרים – קבוצת שיח (בחינם)
מספר המשתתפים/ות בכל קבוצה יוגבל עד 10-12. ההשתתפות מותנת בהרשמה מראש, כל הקודם זוכה! מהרו להבטיח את מקומכם.
רוצה לפתוח עוד קבוצה? כתבו לנו.
Schedule | לוח זמנים
Currently, workshop registration is open for all groups on:
Sunday, August 18
Thursday, August 22
Monday, August 26
Duration of the workshop will be 45 minutes.
The workshops will take place in the Bloomfield Gardens, behind the King David Hotel. Map >
16:00 – start of workshop (please arrive at 15:45)
17:30 – start of Measure for Measure: in motion
ניתן להירשם לכל הקבוצות בתאריכים:
יום ראשון, ה-18 באוגוסט
יום חמישי, ה-22 באוגוסט
יום שני, ה-26 באוגוסט
משך הסדנא כ-45 דקות.
הסדנאות יתקיימות בגן בלומפילד, מאחורי מלון מלך דוד. מפה >
הסדנאות יחלו בשעה 16:00 (בבקשה כוונו הגעתכן/ם ל-15:45).
ההצגה מידה כנגד מידה: בתנועה תחל בשעה 17:30
Registration | הרשמה
Please register by first filling out a form with personal details and then making a payment to secure your spot. Payments are processed via Bar Kayma, our non-profit sponsor.
All registration must be done in advance.
Workshop registration fees are ₪20 per participant. Families are important to us – siblings can sign up for ₪15 for participant. The discussion group is free!
לאחר מילוי טופס עם הפרטים האישיים שלכם/ן, יש לבצע תשלום על מנת להבטיח את מיקומך. התשלום מועבר דרך עמותת בר-קיימא, עמותת החסות שלנו, הפועלת ללא מטרת רווח.
ההשתתפות היא בהרשמה מראש בלבד.
השתתפות בסדנא תובטח דרך העברת תשלום בסך 20₪ למשתתפ/ת. אחים ואחיות הנרשמים יחדיו יקבלו הנחה של ₪15 למשתתפ/ת. ההשתפות בקבוצות השיח לא כרוכה בתשלום!
---
Registration Form | טופס הרשמה
If you have trouble viewing the form below, please click here
אם יש בעיה לקרוא את הטופס למטה, אנא לחצו כאן
Discussion groups are free!
ההשתפות בקבוצות השיח לא כרוכה בתשלום!
Questions? | ?שאלות