Speakeasies: A Jerusalem Cabaret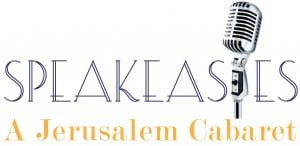 Speakeasy (SPEEK-ee-zee): An illegal barroom operating during the Prohibition period in the 1920s, often including live music, singing, dancing and comedy acts.
Speakeasies is an evening of the best of musical theatre's raunchy and romantic, dirty and droll, naughty and nice – with a brand new show every few months!
Our talented ensemble of singers and dancers will tickle your funny bone and tug on your heartstrings.
Previous shows:
February 8th, 2012 – Speakeasies #1 (Debut)
June 10th, 2012 – Speakeasies #2
December 2, 2012 – Speakeasies #3
Logo by Jen Klor
Videos of past performances on the Speakeasies Youtube page -> http://www.youtube.com/jlemcabaret
Like Speakeasies on Facebook -> https://www.facebook.com/jlemcabaret