Henry IV: in motion – August 11-24, 2021
We're happy to make Henry IV: in motion safe and fun for everyone.
In accordance with Ministry of Health regulations, we're asking our audience to register for the show in advance this year.
When you register, you can also give a suggested donation online.
Thank you and see you in the park soon!
"Uneasy lies the head that wears a crown…"
Shakespeare's Henry IV: in motion in Bloomfield Gardens.
הנרי הרביעי: בתנועה מאת וויליאם שייקספיר בגן בלומפילד.
Please abide by Ministry of Health regulations.
אנא שמרו על הנחיות משרד הבריאות.
PERFORMANCES | הצגות
PREVIEW, Monday, August 9
Wednesday, August 11
Thursday, August 12
Sunday, August 15
Monday, August 16
Wednesday, August 18
Thursday, August 19
Sunday, August 22
Monday, August 23
Tuesday, August 24
יום שני, 9 באוגוסט
יום רביעי, 11 באוגוסט
יום חמישי, 12 באוגוסט
יום ראשון, 15 באוגוסט
יום שני, 16 באוגוסט
יום רביעי, 18 באוגוסט
יום חמישי, 19 באוגוסט
יום ראשון, 22 באוגוסט
יום שני, 23 באוגוסט
יום שלישי, 24 באוגוסט
The show starts at 5:30pm.
Show lasts just under two hours.
Performed in English.
Bloomfield Gardens, Jerusalem.
Entrance from behind the King David hotel. Show starts up a few stairs behind the big stone crypt.
Outside, FREE and full of movement. Fun for the whole family.
Seating on the grass or bring your own chair. Check the weather – you may need a sweater, or sunscreen and a hat.

ההצגה תתחיל בשעה 17:30.
אורך ההצגה קצת פחות משעתיים
ההצגה בשפה האנגלית
גן בלומפילד, ירושלים.
כניסה מאחורי מלון המלך דוד. נקודת ההתחלה של ההצגה נמצאת אחרי כמה מדרגות מאחורי מערת קבורה מרובעת.
כיף לכל המשפחה, בחוץ ובחינם! הישיבה על הדשא, כסאות מתקפלים יתקבלו בברכה. זכרו כי הערב הירושלמי קריר! כדאי להצטייד בסווטשרט.
COMING BY BUS? Best to take any line (71, 72, 74, 75, 77, 78, 7, 13, 34) that stops at Keren Hayessod / Shalom Aleichem, walk on Avraham Mapu St. to King David St., and enter the park via Elimelech Admoni St. (the small street with the entrance to the hotel parking lot). Turn right after you enter the park and you'll find us.
COMING BY CAR? Best to park in the Yemin Moshe Windmill parking lot (Waze to שדרות בלומפילד). Blue and white paid parking until 18:00 – watch out for a few spots for neighborhood residents only. There is also limited parking on the lot on Emile Botta St., opposite the French Embassy.
Note: the performance is mostly taken from Henry IV part I, with a few scenes from part II.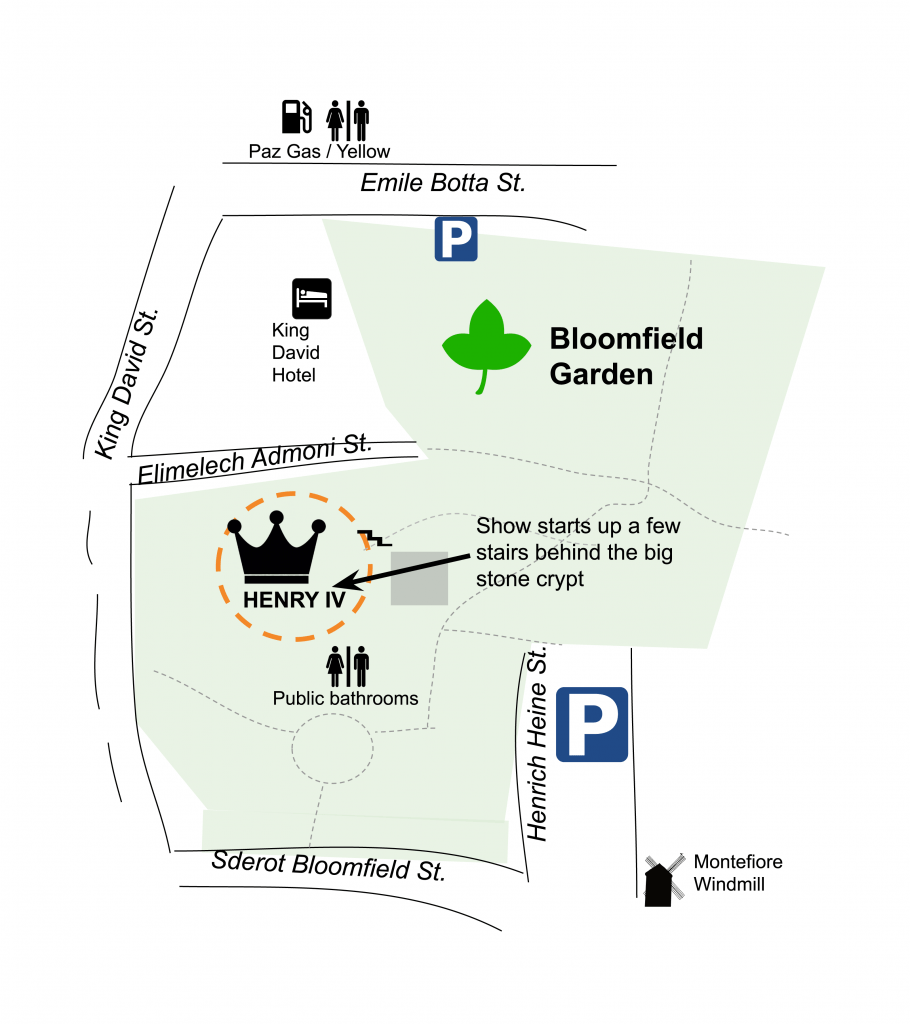 Suggested donation ₪40 per person. Limited edition Henry IV Merchandise available!
תרומה מומלצת 40₪ לאדם. תוכלו לרכוש במקום פריטים עם הדפסים מיוחדים של ההצגה!
נתראה! See you there!
לפרטים נוספים – For more information
052-559-4257
[email protected]
---
CAST | הנפשות הפועלות
POINS / DOUGLAS ………………………………………….. Abigail Ellis
WESTMORELAND / HOSTESS / GLENDOWER … Andrea Katz
HOTSPUR ………………………………………………………. Avital Sykora
NORTHUMBERLAND / PETO / VERNON …………… Ella Ben Emanuel
WORCESTER …………………………………………………. Gillian Kay
FALSTAFF ………………………………………………….. Ira Skop
KING HENRY IV ………………………………………………. Miriam Metzinger
BLUNT / SHERIFF / MORTIMER …………………….… Mordechai Blau
PRINCE …………………………………………………….. Natan Skop
LORD PERCY / BARDOLPH …………………………….. Omer Shaik
PRODUCTION TEAM | צוות הפקה
Artistic Director ……… Beth Steinberg
Co-Director …………… Yam Drori
Producer ………………. Natan Skop
Business Manager … Ira Skop
Costumes …………….. Bayla Lewis
Music ……………………. Yaar Drori
Special props ……….. Rachel Jacobson
---
SUPPORT FOR THIS PRODUCTION | תמיכה להפקה השנה
To our special patrons, Cheri Fox, Linda Adams and Michael Loftus. Our deepest thanks for your belief in and support of local theater.
This production has been made possible by a grant from the Nathan Cummings Foundation, with the encouraging support of Ruth Cummings. Thank you so much!
Theater in the Rough is an independent project operating as part of Bar-Kayma for Culture, Art, Music and Peace (Registered non-profit).
לתומכות ותומגים המיוחדים שלנו, שרי פוקס, לינדה אדאמס ומיכאל לופטוס. תודה מעומק הלב על נדיבותכם ואמנותם בתיאטרון מקומי.
ההפקה מתאפשרת בזכות תרומת קרן נתן קאמינגס, בתמיכתה ועידודה של רות קאמינגס. תודה רבה!
תיאטרון‭ ‬בתזוזה‭ ‬פועל‭ ‬כפרויקט‭ ‬עצמאי‭ ‬במסגרת‭ ‬עמותת‭ ‬בר‭-‬קיימא‭ ‬לתרבות‭, ‬אמנות‭, ‬מוסיקה‭ ‬ושלום (ע״ר).