Hamlet: in motion, August 8-28, 2018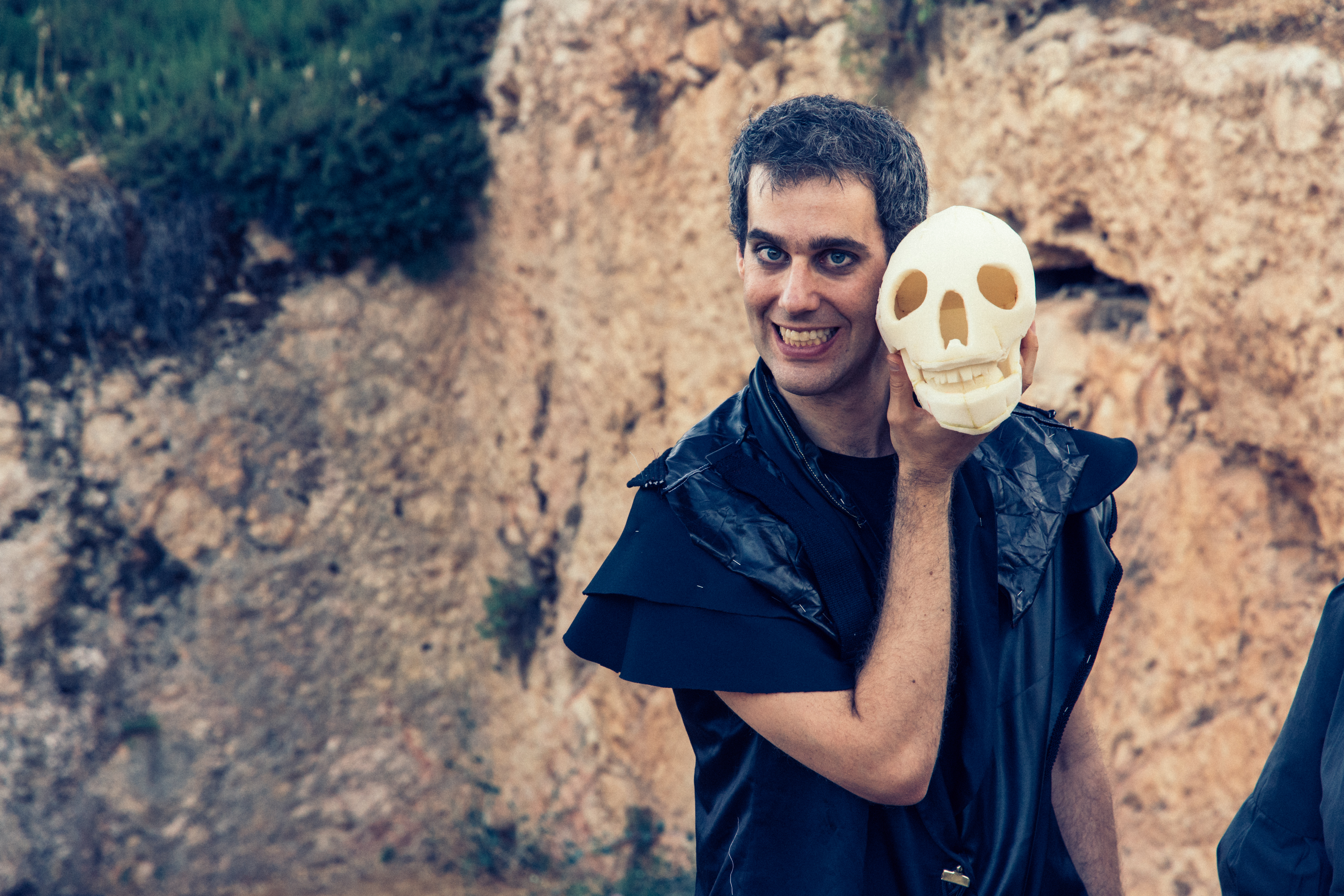 "Thus conscience does make cowards of us all…"
9 evenings of Shakespeare's Hamlet: in motion in the Bloomfield Gardens, August 8-28! No tickets. No reservations. Just show up!

המחזה ״המלט״ בתנועה מאת וויליאם שייקספיר בגן בלומפילד לתשעה ערבים, 8 – 28 באוגוסט! הכניסה חופשית. פשוט להגיע!

Wednesday, August 8
Thursday, August 9
Sunday, August 12
Monday, August 13 – pre-show workshop for kids!
Wednesday, August 15
Thursday, August 16

Sunday, August 26
Monday, August 27 – pre-show workshop for kids!
Tuesday, August 28

The show starts at 5:30pm

Bloomfield Garden, Jerusalem
Behind the King David Hotel, via Emile Bota St.


Map > // FB event >

יום רביעי, 8 באוגוסט
יום חמישי, 9 באוגוסט
יום ראשון, 12 באוגוסט
יום שני, 13 באוגוסט – סדנא לילדים לפני המופע!
יום רביעי, 15 באוגוסט
יום חמישי, 16 באוגוסט

יום ראשון, 26 באוגוסט
יום שני, 27 באוגוסט- סדנא לילדים לפני המופע!
יום שלישי, 28 באוגוסט

ההצגה תתחיל בשעה 17:30

גן בלומפילד, ירושלים
מאחורי מלון מלך דוד, דרך רח׳ אמיל בוטה.


Performed in English

Outside, FREE and full of movement.
Fun for the whole family.
Seating on the grass or bring your own chair.
Suggested donation ₪35 per person.

See you there!

ההצגה בשפה האנגלית

בחוץ ובחינם! כיף לכל המשפחה
ישיבה על הדשא.
תרומות מומלצת 35₪ לאדם.

נתראה!
לפרטים נוספים – For more information
052-559-4257
[email protected]
Not sure you can (or want to) move around the park with us?
No fear! We're delighted to announce a special performance of selected scenes from Hamlet: motion!
Friday, August 17th, at 11am
@ the Auditorium the Beit Moses, Derech Beit Lechem 52, Jerusalem. Program in English, aprox. 50 minutes.
Free, click here to register, if you aren't a resident of Beit Moses. Space is limited to 30 guests.

""

**DRAMATIS PERSONAE | הנפשות הפועלות**
BERNARDO / ROSENCRANTZ / PLAYER – Miriam Metzinger
MARCELLUS / 1ST PLAYER / OSRIC – Andy Katz
HORATIO – Abigail Ellis
GHOST / POLONIUS – Ira Skop
CLAUDIUS – Simon Montagu
LAERTES / PLAYER – Shiri Berzack
HAMLET – Natan Skop
GERTRUDE – Annabelle Landgarten
OPHELIA – Talya Bem
GUILDENSTERN / PLAYER / GRAVEDIGGER – Gillian Kay
**PRODUCTION TEAM | צוות הפקה**
Artistic Director – Beth Steinberg
Producer- Natan Skop
Business Manager – Ira Skop
Designer – Bayla Lewis
Design Manager – Mika Lanir
Graphic Design – Jen Klor
Photography – Yitz Woolf
—-
**SUPPORT FOR THIS PRODUCTION | תמיכה להפקה השנה**
To our special patron, Cheri Fox. Our deepest thanks for your belief in and support of local theater.
לתומכת המיוחדת שלנו, שרי פוקס, תודה מעומק הלב על נדיבותכך ואמנותך בתיאטרון מקומי.
Theater in the Rough is an independent project operating as part of Bar-Kayma for Culture, Art, Music and Peace (Registered non-profit).
תיאטרון‭ ‬בתזוזה‭ ‬פועל‭ ‬כפרויקט‭ ‬עצמאי‭ ‬במסגרת‭ ‬עמותת‭ ‬בר‭-‬קיימא‭ ‬לתרבות‭, ‬אמנות‭, ‬מוסיקה‭ ‬ושלום (ע״ר).