Hamlet 2018 Workshop סדנאות המלט
REGISTRATION IS FULL! Thanks
הרישום מלא! תודה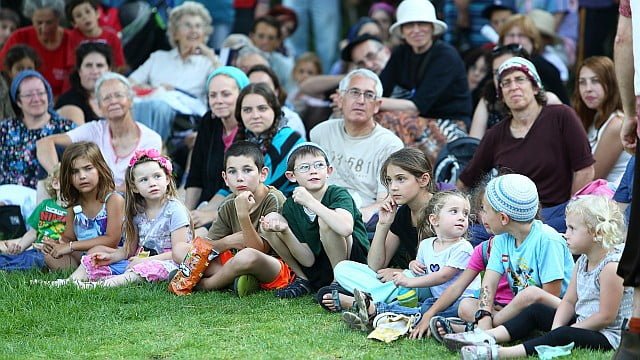 We're excited to announce our first ever pre-show workshops for kids!
Have fun with Hamlet: in motion with Avital Sykora and Rebecca Sykes, local performers and teachers. Play some theater games and learn about Shakespeare's Hamlet, as well as get to meet with an actor before the show!
Workshops in English (Hebrew speakers welcome).
אנו מתרגשים להכריז לראשונה על פתיחת סדנאות טרום-מופע לילדים!
בואו להיות חלק מהמלט: בתנועה – הצטרפו לסדנאות שלנו: השחיזו את כישורי המשחק ולימדו להכיר מקרוב את את הקסם הייחודי של המלט. בנוסף, תוכלו לפגוש את השחקנים והשחקניות שלנו לפני המופע!
מדריכות הסדנא, אביטל סאקורה ורבקה סייקס, שחקניות ונשות חינוך מקומיות, ידריכו את הסדנאות בשפה האנגלית (המדריכות גם דוברות עברית).
Groups
Workshops are available for two age groups:
Going into second-fourth grade
Going into fifth-seventh grade
Groups will be limited to 10-12 participants on a first-come, first-served basis. You must register and pay in advance to secure a spot.
חלוקה לקבוצות
הסדנאות מחולקות על פי קבוצות הגיל הבאות:
בוגרי כיתה א' עד ג'

בוגרי כיתה ה' עד ז'
מספר המשתתפים/ות בכל קבוצה יוגבל עד 10-12 ילדים וילדות. ההשתתפות מותנת בהרשמה ותשלום מראש, כל הקודם זוכה! מהרו להבטיח את מקומכם.
Schedule
Currently, workshop registration is full for all groups on Monday, August 27th.
Duration of the workshop will be 45 minutes.
The workshops will take place in the Bloomfield Gardens, behind the King David Hotel. Map > 
16:00 – start of workshop (please arrive at 15:45)
17:30 – start of Hamlet: in motion
לוח זמנים
נפתחה ההרשמה לסדנאות מלאה לכל הקבוצות ביום שני, ה-27 לאוגוסט.
הסדנאות יתקיימות בגן בלומפילד, מאחורי מלון מלך דוד. מפה > 
הסדנאות יחלו בשעה 16:00 (בבקשה כוונו הגעתכן/ם ל-15:45) וימשכו כ-45 דקות.
ההצגה המלט: בתנועה תחל בשעה 17:30
Registration
Please register by first making a payment to secure your spot and then filling out a form with personal details. Payments are processed via Bar Kayma, our non-profit sponsor.
All registration must be done in advance.
Registration fees are ₪20 per participant. Families are important to us – additional siblings get a half-price discount.
If for some reason you were not automatically redirected to the registration form after payment, you can access it here.
הרשמה
השתתפות בסדנא תובטח דרך העברת תשלום בסך 20 ₪ למשתתפ/ת. אחים ואחיות הנרשמים יחדיו יקבלו הנחה של חצי מחיר.
לאחר התשלום עליכן/ם למלא את טופס הפרטים האישיים. התשלום מועבר דרך עמותת בר-קיימא, עמותת החסות שלנו, הפועלת ללא מטרת רווח.
ההשתתפות היא בהרשמה מראש בלבד.
אם מסיבה מסוימת, לא הועברתם/ן באופן אוטומטי אל טופס הרישום לאחר התשלום, לחצו כאן.
Questions?
Don't hesitate to contact Natan at [email protected] or 052-5538052.
שאלות?
אל תהססו ליצור קשר! כתבו לנתן [email protected] או בטלפון 052-5538052