Winter Shakespeare Monologues Presentation 2022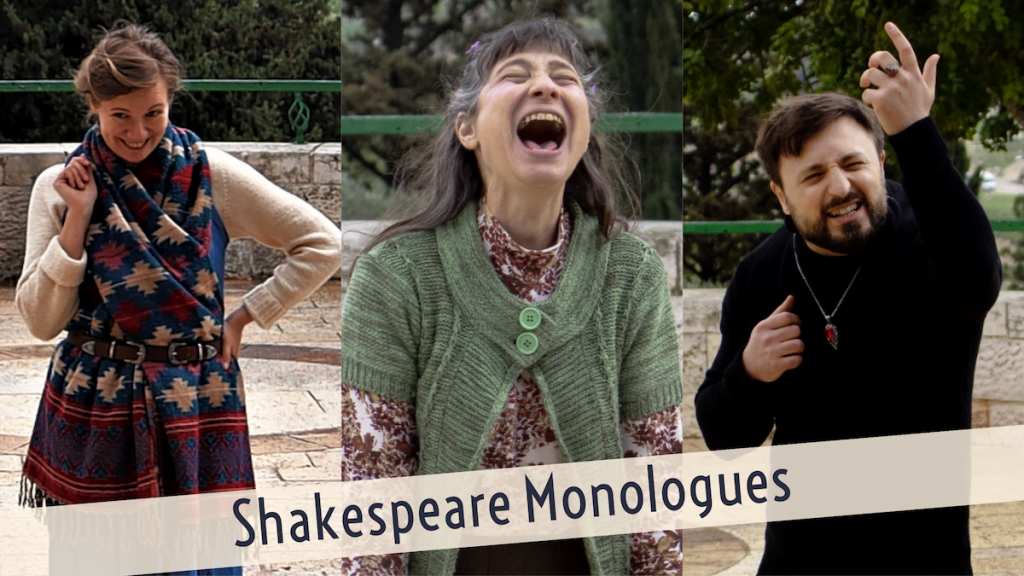 Winter Shakespeare Monologues Presentation!
במה חורפית למונולוגים שייקספירים
When:
Friday, February 11th
1st presentation: 10:00 (arrive at 9:45)
2nd presentation: 12:00 (arrive at 11:45)
Where:
A beautiful natural stone amphitheater on the Gabriel Scherover Promenade, Jerusalem. Google maps >
Best to access via Naomi St, off of Derech Hevron (Bus stop Derech Hevron / Aleck or Derech Hevron / Naomi, depending on the direction). This way shouldn't have any stairs. Walk past the Yes Planet, take the right fork in the road and enter the promenade to the right. Walk south about 5 minutes and you'll see the amphitheater. Use the google maps link above, it's pretty exact.
Alternatively, you can enter via the section of the promenade on Yanovski St (Bust stop Armon HaNatziv Promenade / Yanovski). Coming from Beitar St, it's the first entrance on the left. Walk in, you'll pass public bathrooms on your right, and walk down a very long set of stairs. At the bottom, you'll see the base of a wooden pergola that has been temporarily removed for repairs. Turn left, and walk about five minutes (you'll pass another small wooden pergola on the way) until you get to our location. Use the google maps link above, it's pretty exact.
Rain date:
In case of rain, the presentation will take place on Friday, February 18th at the same time.
What to bring:
Warm clothing – if it's a cold day, it can be chilly sitting on the stone in the shade.
Comfortable shoes – it's only a five minute walk, but why be uncomfortable?
Water – make sure you stay hydrated
A hat – if it's a warm day, the winter sunshine is very bright on all that Jerusalem stone.
A towel or pillow or folding chair to sit on – especially if it's cold or a little damp.
The presentation is free.
You can support Theater in the Rough with a donation on our website, or you can give in person at the event or via bit, paybox or pay to 052-5538052. Thank you!
Be smart. Please observe by COVID-19 guidelines.
Fill out the form below. Can't see the form? Click here
Thanks for signing up! You can also share on Facebook.
---
Want to perform with us?
רוצות.ים להופיע איתנו?
Theater in the Rough is proud to present our second ever presentation of Shakespearean monologues and sonnets, open for anyone to participate.
תיאטרון בתזוזה גאה להציג – במת חורף שייקספירית של מונולוגים וסונטות, ואתם.ן מוזמנות.ים להצטרף!
So warm up your best Shakespearean-monologue voice and get ready to lay down some rhyming couplets!
חממו את הקול, חיזרו על השורות והיכונו לשחרר לאוויר הירושלמי הצונן כמה חרוזים לוהטים!
Step 1 – Fill out the form
שלב 1 – מלאו את הטופס
By January 6, 2022
Can't see the below form? Click here
Step 2 – Choose your monogloue
שלב 2 – בחר.י את המונולוג שלך
Choose your monologue from a bank of choices we'll prepare in advance.
בחר.י טקסט ממאגר המונולוגים.
Monolgoues can be performed in ANY LANGUAGE.
You'll be able to choose whatever age or gender or character suits your fancy.
ניתן לבצע את הטקסט בכל שפה
ניתן לבחור בכל טקסט מהמאגר, כל דמות מכל מגדר או גיל שתרצו.
Step 3 – Rehearsals
שלב 3 – חזרות
Between January 17-February 3, in Jerusalem.
בין ה17 לינואר עד ה3 בפברואר, בירושלים.
2 in person rehearsals to develop your monologue – a rehearsal is a 1 hour session.
Rehearsals are with Beth Steinberg and Yam Drori, the curators/directors of the evening, who will work out with each person what piece they'll be performing and learning by heart.
על מנת להופיע איתנו, נדרשות לפחות 2 חזרות אישיות, בהנחיית במאיות הפרויקט – בת' שטיינברג וים דרורי. משך כל חזרה כשעה. לחזרות יש להגיע עם המונולוג מוכן בעל פה.
Step 4 – Performance
שלב 4 – מופע
Friday, February 4, 2022, between 10:00-12:00 – Dress rehearsal
Friday, February 11, 2022, between 9:00-13:00 – Performance
Friday, February 18, 2022, between 9:00-13:00 – Rain check for performance
יום ו׳, 4 בפברואר, 2022, בין 10:00-12:00 – חזרה גנרלית
יום ו׳, 11 בפברואר, 2022, בין 9:00-13:00 – מופע
יום ו׳, 18 בפברואר, 2022. בין 9:00-13:00 – אופציה למופע במקרה של גשם
Performance will be in Jerusalem, exact location to be announced.
המופע יתקיים בירושלים, מיקום מדויק יימסר בהמשך.