Birthday and Nobody by Crystal Skillman – March 9, 2014

A staged-reading of two contemporary plays,
BIRTHDAY and NOBODY
by award-winning playwright, Crystal Skillman
Online Q&A with playwright, Crystal Skillman, after the reading
Sunday, March 9th, 8pm-10pm
The American Center, 19 Keren Hayesod Street, Jerusalem.
Map: http://goo.gl/hP5qHd
Free of charge. In English. Mature language and themes.
BIRTHDAY, a one-act work about two lonely people who find each other in the back of a bar.
NOBODY, a monologue play about six unfulfilled characters discovering solace in sharing their collective dream.
More information: [email protected] | 052-553-8052 | Facebook event

—
ACTORS
Chanel Lallouz
Michaela Singer
Natan Skop
Ira Skop
Beth Steinberg
Tammy Elashvili
ABOUT THE PLAYWRIGHT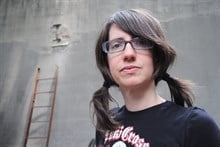 Crystal Skillman is the award winning author of Cut (The Management in Spring 2011, New York Times critic's pick); Vigil, or The Guided Cradle (ITG/Brick, 2010 New York Innovative Theatre Award for Outstanding Full-Length Script); and Birthday & Nobody (directed by Daniel Talbott for Rising Phoenix Rep in NYC, U.K Premiere with Kibbo Productions, Chicago at The Side Project). Her play Wild opens this spring in Chicago, under the direction of Evan Caccioppoli with the Sanguine Theater Company. Her plays are available from Samuel French, where she also teaches full length playwriting, and her Cino Night play Sex & Death in London will be coming out in a collection of work from Rising Phoenix Rep. She was recently featured in a short video piece at the Huffington Post which features filmed monologues from Wild & Cut.
More about Crystal -> http://www.samuelfrench.com/author/281/crystal-skillman