Winter Shakespeare Monologues Presentation 2022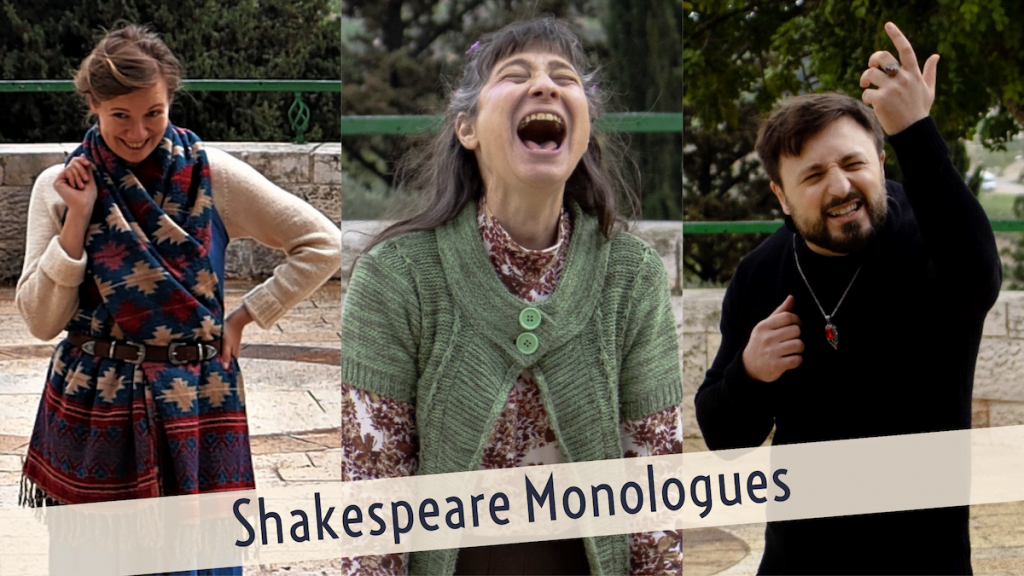 Winter Shakespeare Monologues Presentation!
במה חורפית למונולוגים שייקספירים
Theater in the Rough is proud to present our second ever presentation of Shakespearean monologues and sonnets, open for anyone to participate. To take place outside in Jerusalem in February 2022.
תיאטרון בתזוזה גאה להציג – במת חורף שייקספירית של מונולוגים וסונטות, ואתם.ן מוזמנות.ים להצטרף! האירוע יתקיים בירושלים, באוויר הפתוח, בחודש פברואר.
So warm up your best Shakespearean-monologue voice and get ready to lay down some rhyming couplets!
חממו את הקול, חיזרו על השורות והיכונו לשחרר לאוויר הירושלמי הצונן כמה חרוזים לוהטים!
Want to perform with us?
רוצות.ים להופיע איתנו?
Step 1 – Fill out the form
שלב 1 – מלאו את הטופס
By January 6, 2022
Can't see the below form? Click here
Step 2 – Choose your monogloue
שלב 2 – בחר.י את המונולוג שלך
Choose your monologue from a bank of choices we'll prepare in advance.
בחר.י טקסט ממאגר המונולוגים.
Monolgoues can be performed in ANY LANGUAGE.
You'll be able to choose whatever age or gender or character suits your fancy.
ניתן לבצע את הטקסט בכל שפה
ניתן לבחור בכל טקסט מהמאגר, כל דמות מכל מגדר או גיל שתרצו.
Step 3 – Rehearsals
שלב 3 – חזרות
Between January 17-February 3, in Jerusalem.
בין ה17 לינואר עד ה3 בפברואר, בירושלים.
2 in person rehearsals to develop your monologue – a rehearsal is a 1 ¼ hour session.
Rehearsals are with Beth Steinberg and Yam Drori, the curators/directors of the evening, who will work out with each person what piece they'll be performing and learning by heart.
על מנת להופיע איתנו, נדרשות לפחות 2 חזרות אישיות, בהנחיית במאיות הפרויקט – בת' שטיינברג וים דרורי. משך כל חזרה כשעה ורבע. לחזרות יש להגיע עם המונולוג מוכן בעל פה.
Step 4 – Performance
שלב 4 – מופע
Friday, February 4, 2022, between 10:00-12:00 – Dress rehearsal 
Friday, February 11, 2022, between 9:00-13:00 – Performance 
Friday, February 18, 2022, between 9:00-13:00 – Rain check for performance
יום ו׳, 4 בפברואר, 2022, בין 10:00-12:00 – חזרה גנרלית
יום ו׳, 11 בפברואר, 2022, בין 9:00-13:00 – מופע
יום ו׳, 18 בפברואר, 2022. בין 9:00-13:00 – אופציה למופע במקרה של גשם
Performance will be in Jerusalem, exact location to be announced.
המופע יתקיים בירושלים, מיקום מדויק יימסר בהמשך.
I want to come to the evening!
רוצות.ים לבוא לראות?
Amazing! We'll have details on how to book your place really soon.
פרטים על זמן, מיקום מדויק והזמנת כרטיסים לאירוע יעלו בקרוב. כדאי למלא את הטופס הבא על מנת להישאר מעודכנות.ים: