Talk on August 22 – Gila Fine
Description
Gila Fine
Monday, August 22, at 20:00
At the home of Howard and Freda Wallick in Baka, Jerusalem.
"Scripture for Their Purpose": Shylock, Antonio, and the Battle for Biblical Truth
From the strained civilities of their first onstage encounter, it seems inevitable that Shylock and Antonio will clash. And clash they do, though not quite as we might expect. Rather than theology, ethics, or politics, the thrifty Jewish usurer and venturesome Christian merchant engage in a heated debate over the meaning of Scripture. Why is an obscure biblical incident the subject of Shylock and Antonio's first fight? Which of them is reading the Bible correctly? And how does this induce them to enter the deadly fleshbond? Reading the Jacob debate in light of the Bible, New Testament, Talmud, and Church Fathers.
Gila Fine is a teacher of Aggada at the Pardes Institute of Jewish Studies, exploring the tales of the Talmud through philosophy, literary criticism, psychoanalysis, and pop-culture. She is also a faculty member of the London School of Jewish studies, the Nachshon Project, and Amudim Seminary, and has taught thousands of students at conferences and communities across the Jewish world. Haaretz has called her "a young woman on her way to becoming one of the more outstanding Jewish thinkers of the next generation."
---
The Merchant of Venice is a real conversation starter. Whether it's stark portrayals of religious-based hatred of Jews, skewering of ideals of mercy and justice, or tying emotional relationships to commercial exchanges, the play has sparked debates, articles, and even several mock appeals!
We're excited to announce BACK TO BACK talks in Jerusalem exploring The Merchant of Venice, with Dr. Katherine Aron-Beller on August 21 (at the Shutaf office, Talpiot Industrial Area) and Gila Fine on August 22 (at Howard & Freda's house in Baka).
Space is limited – RSVP required.
₪50 per person, ₪80 for both lectures.
Sign up now above!
Questions? Email [email protected], or call 052-5538052.
---
Part of Theater in the Rough's summer production of The Merchant of Venice: in motion August 9, 10, 14, 15, 17, 18, 23, 24, 25 at 17:30 in Bloomfield Gardens, Jerusalem. More details here >
---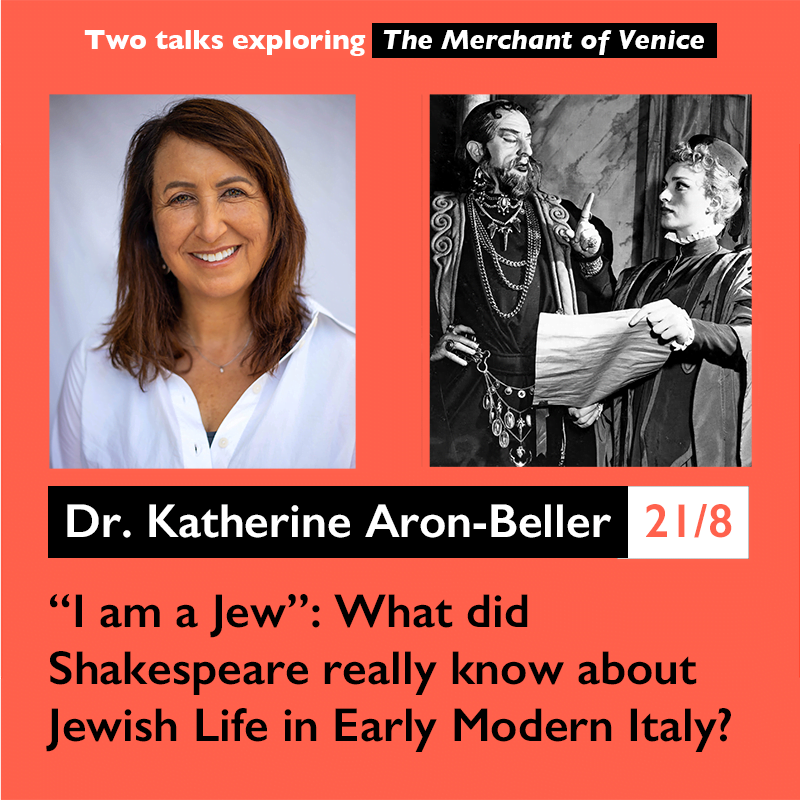 Dr. Katherine Aron-Beller
Sunday, August 21, at 20:00
At the Shutaf office in the Talpiot Industrial Area, Jerusalem
"I am a Jew": What did Shakespeare really know about Jewish life in Early Modern Italy?
No sixteenth or seventeenth century play in Italy, France or Spain, besides Marlowe's The Jew of Malta, even remotely approaches in range or depth the exploration of Jewish life and antisemitism contained in The Merchant of Venice. Shakespeare's play, written between 1596-8, carries a substantial load of Jewish material – traditions, manners, culture, religion, ethics and scholarship. But what did Shakespeare really know about Jewish life in early modern Venice, how the Jews were treated and where they lived? This question will be explored with historical sources from early modern Europe, shedding light on the Jewish heritage in Renaissance Italy.
Originally from London, Dr. Katherine Aron-Beller is lecturer of Jewish History in the Rothberg International School of the Hebrew University and at Tel Aviv University. Her areas of expertise include medieval Jewish history, early modern Jewish-Christian relations, the early modern Papal Inquisition and the history of Antisemitism. She is the author of Jews on Trial: The Papal Inquisition in Modena 1598-1638 (Manchester: Manchester University Press, 2011), the co-editor of The Roman Inquisition: Centre versus Peripheries (Leiden: Brill, 2018) and many articles on the Catholic Inquisition, antisemitism and the Jews of Italy. Her most recent book Christian Images and Jewish Desecrators: The History of an Allegation 400-1700 is at present in publication. Since 2020 she has been a Visiting Scholar of the Stephen Roth Institute for the Study of Contemporary Antisemitism and Racism.
---
Space is limited – RSVP required.
₪50 per person, ₪80 for both lectures.
Sign up now above!
---
Black and white image – Robert Helpmann as Shylock and Barbara Jefford as Portia at the Old Vic theatre in London, 1956.